London has a variety of airports serving the city on both smaller and larger scales. One such airport operating the low-cost flights in UK is the London Stansted Airport. Distance between the airport and the city centre is approximately 48km. The airport remains fully occupied throughout the year and it can be evident by the annual passenger traffic. The airport is having all the essentials required such as Wi-Fi, restaurant, cafes and rest areas. Hence, people who tend to go to London through an economical airline, they may well get the opportunity to land at this wonderfully constructed airport. Second of all, a very beautiful location that the passengers can opt to visit in London is Paddington. There are a wide range of hotels from which the tourists can select according to what they desire. The beautifully designed bridges in Paddington is an awe-inspiring piece of art. The Station in Paddington is the location from where the Heathrow express operates. Hence, it proves the worth of this area as Heathrow express is one of the most renowned train lines in London. Tourists can also enjoy their trip to the fullest as there are a lot of bars and cafes in Paddington.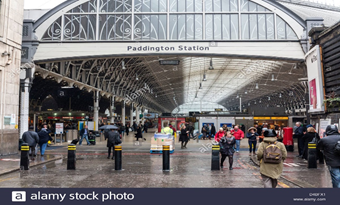 The journey from London Stansted Airport to Paddington is very comfortable and easy as both of them reside in the same city. The distance between both these wonderful places is 40.2 miles. Although there is not a direct bus or train route from the airport to the station, there still are connections that can help the tourists carry out their journey with their comfort intact. The tourists can also take advantage of the other facilities to carry out their trip such as renting a car or taxi. A significant contender in terms of the car and taxi system is Ziyas.com. Tourists can look for these options and then decide what is best suitable for them. The photograph below states the distance and time consumed throughout the journey.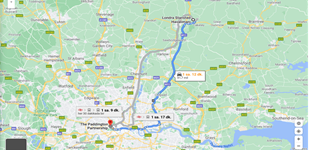 This blog tends to aid the tourists and is an attempt to guide the tourist with all the essential knowledge that they would require in order to have an enjoyable and convincing trip. Desires of tourists may vary according to privacy and time concerns so for that this blog is the perfect source to assist them. They can figure out which method of travel suits them best. As far as renting a car or taxi is concerned, Ziyas.com is a company which can do wonders for a tourist, distinguishing the best deals for people according to their budget. It can help in renting taxis or cars within the desired price limit of the tourist. Moreover, in order to make the trip more convincing and smooth, it only suggests in terms of direct routes. Direct routes can be more satisfying for the tourists as they have the privilege of witnessing remarkable views on their way. Also, it takes 73 minutes for tourists to go from London Stansted Airport to Paddington. Ziyas.com assures that the tourist have the time of their life as they have raised their services and standards to a level yet to be met. They have numerous amounts of highly qualified and friendly employees who tend to do their best to ensure an enjoyable and worthy trip for the tourist. Additionally, the drivers can speak several languages, therefore eliminating language issues. Furthermore, the website has a trait of having access to information about variety of vehicles also providing access to them, hence the tourists can opt for any vehicle that they feel would make their trip more gratifying. Moreover, the company proceeds to and provides deals which economically are in range of the tourist's budget, therefore making it one of the contenders to look upon when aiming to travel from London Stansted Airport to Paddington. One other major aspect of their company is online payment which can also aid tourists in an adequate way.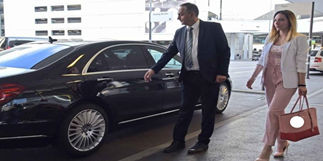 In addition to that, when it comes to family trips, a major issue the families encounter is taking care of the little ones. Keeping this in mind, Ziyas.com provides the best of services for babies such that the cars comprise of special seats for the babies and much more. This is one huge step by Ziyas.com which eliminates this widely common dilemma among families while planning a trip. Moreover, there are some people who come on a short holiday and desire to visit places for short periods of times, so for that if a person reaches the desired location and wants to go somewhere else from their or go back as well, they have the choice of hiring the same driver for the further or return trip as the particular driver awaits your decision. It is the most convenient ways of travelling from London Stansted Airport to Paddington with providing tourists with VIP perks. The preferences which crop up in front of us when we search for the particular route from London Stansted Airport to Paddington , comprise of a wide range of cars going all the way from a Hyundai, Ford to a Kia Optima or Toyota Corolla. The prices of comfort and Standard classes vary with the former costing 161.74 dollars and the latter costing 99.13 dollars. The price difference is generally not so much and both the options are tremendously safe and enjoyable so the tourist can opt what they desire. Generally in a car for standard class, 3 passengers carrying one luggage each are accommodated and for comfort class there are 4 passengers and 3 baggages allowed. Also, in case of families or more passengers, tourists can use the facility of minibuses. The brands of which range from Ford Transit to Toyota Coaster. The buses can accommodates 10 passengers with a baggage each and the price is 116.53 dollars respectively.
There are some tourists who concern that their privacy must be taken care of, so in that case the train or subway system is not to be suggested to them. However, the people who do not worry about this scenario a lot can very well enjoy the wonderful train ride and reach their destination in the most efficient and rapid way possible to go from London Stansted Airport to Paddington. It is not a direct route though as passengers need to first go to London Liverpool street and from there to Paddington. Despite of this one change, many tourists still regard this as the best way for this journey as the trains are very comfortable, rapid and have all the necessary facilities. Another major implication to be noted is that according to the distance train tickets are very economical, normally being 26.10 pounds for standard class and 33.71 pounds for 1st class. The train will carry out the trip comfortably in about an hour and 30 minutes. The train operates from London Stansted Airport after every 30 mins which assure that the passengers do not have to worry about waiting lot at station. However, the capacity of the trains can be a problem at times because this is the fastest way by train to complete this journey.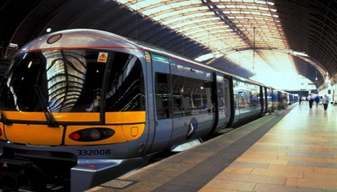 Another significant way that can be utilised is that of travelling by bus. The bus takes almost the same time as a car does which is approximately 70-80 minutes from London Stansted Airport to Paddington. However, people who prioritize their privacy may well refrain from choosing this option. The buses contain various essential facilities such as WIfi, charging sockets, air conditioning and toilets assuring a very enjoyable journey for the passengers. Also to eliminate any concern of more time consumption, almost 201 buses operates in this path 24/7 everyday. The trains usually cost 8 pounds for one side and is operated by the National Express company.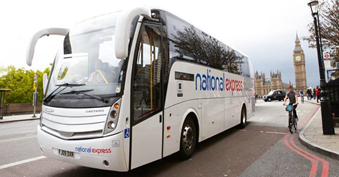 Therefore, the passengers who land at the London Stansted Airport and plan to visit Paddington. They must be aware of all these aspects while carrying out their journey so that they select the best for themselves and also return back home satisfied and happy. As transporation is one of the key aspects when defining a memorable trip, so if there are problems in transportation, no tourist would enjoy the trip. There are several options you can search for e.g. bus, train and car-pooling, however the greatest recommendation one could give you will be using Ziyas.com which ensures the tourists a journey of their lives keeping their safety and privacy intact.